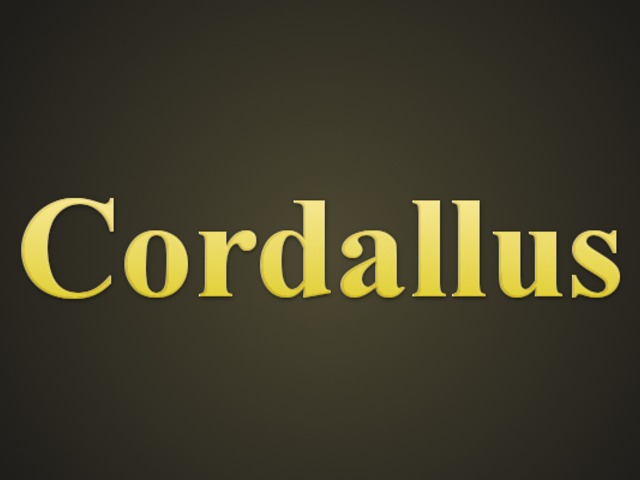 Cordallus is an Open world RPG for Android that focuses on surviving in a fantasy middle-age realm
Video coming soon...

Cordallus is a fantasy sandbox RPG set in the middle age realm of Cordallus, more specifically the ancient region of Stovec. The game itself was born out of my love for fantasy RPGs. Any game can give you quests and monsters to slay, only the really good games create a world that is alive and evolving. I want to create a game that will immerse the player in a uniquely constructed world.
There is no scripted storyline, meaning the player can do whatever he or she chooses. That said, there are 100's of quests for the player to engage with. From finding lost items to clearing caverns. It is up to you whether to help the people of Cordallus, or go it alone.

Explore a huge map full of Enemies and Secrets
At the moment there are six unique cities to explore. Each of these is only accessible by navigating your way through a huge map filled with traders and bandits. (I am planning to add alot more settlements).
Eat, Drink and Sleep to stay alive. In order to properly survive you must keep yourself fed. Drink plenty and get some rest.
Hunt, Farm and Fish. If you are not willing to pay the prices of the market you can always go out and hunt yourself. Heck, why not start selling your produce and start a business? 
Homesteads. buy your own land and develop it. Land can be bought from various vendors. Once purchased you can develop it into your own self sufficient farm.
Invest in property for a gradual return. Buildings can be purchased and rented out for a safe return. Want more money? then upgrade the dwelling to accomodate more 'upmarket' customers.
Invest in businesses for a larger reward.
Craft 100s of items. Weapons and Items are all craftable in the game. If you have the right materials and tools... you can make it! Collect the raw materials yourself and craft them into items to sell on.
Cook. Food goes alot further when you prepare it into meals.
At the moment I estimate the game to be around 30% completed. There is so much to add! but we can with your help.
Please check out my Dev blog for more information http://cordallusdev.blogspot.co.uk/
Some screenshots from the game: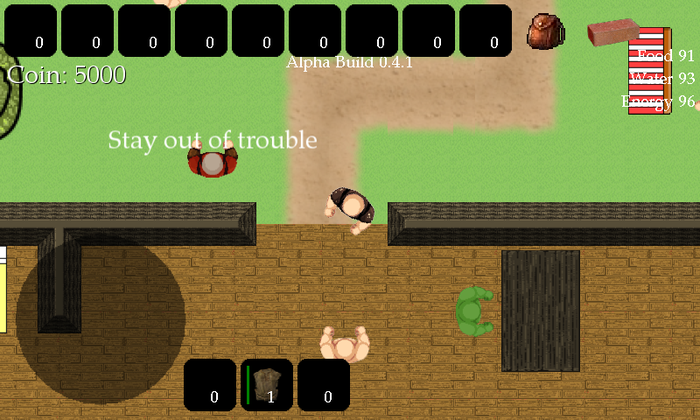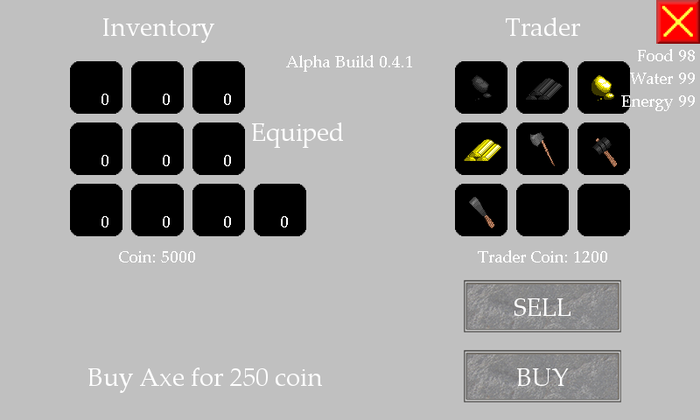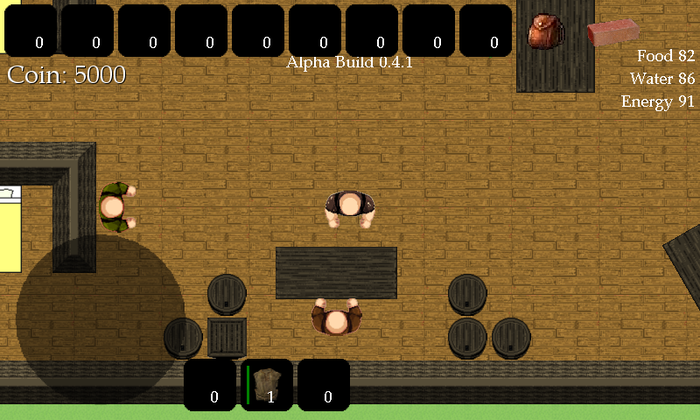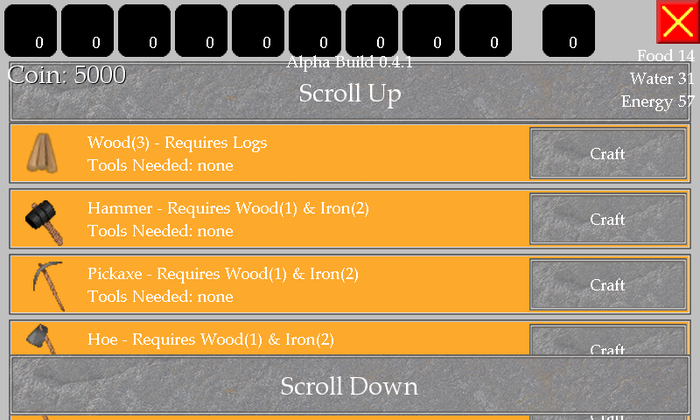 I'm still in the process of updating all of the game's graphics

The game's setting is in the fictional region of Stovec, which lies on the continent of Cordallus. The climate is mostly grassland with mountains stretching away into the distance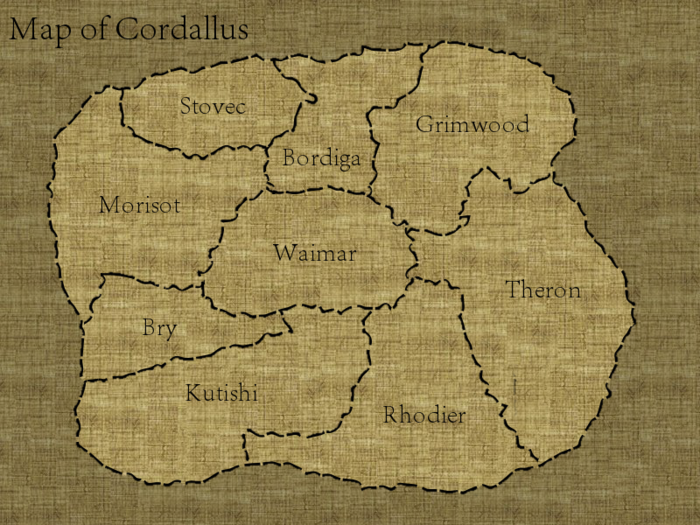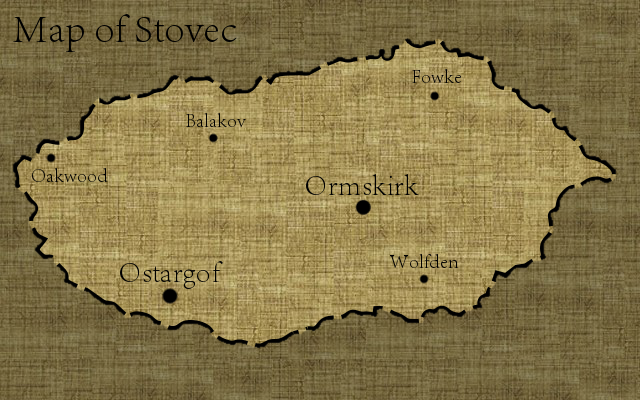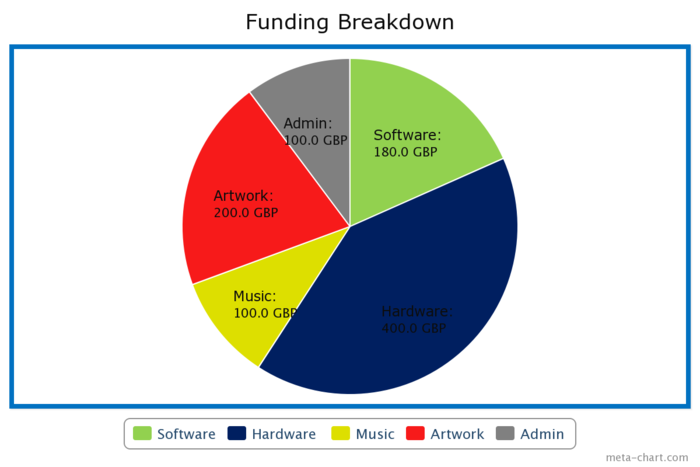 This is how the funding has been allocated so far. The most important thing to complete the project is some nice new Hardware. Artwork and Sound funds are more flexible - they would be nice to polish the game to a higher standard, but are not essential. That said, I am in discussion with an artist to take the lead role of producing graphics. I also have somebody that is currently producing concept art for the project

 £4 - A digital copy of Cordallus for your Android device. You will get the alpha release which should be released in September 2014, so you won't have to wait too long before you can start playing. This also includes all future updates.
£10 - as well as the above, you will feature in the game credits as a backer.
£30 - In addition to the above you will have the oppertunity to create your own in-game NPC. I will contact you during development. You can decide his name, race, appearance as well as his dialogue and associated quest.
£100 - In addition to the above you can create your own settlement and name it. I will contact you during deelopment to get a design of the city you want to create. From street layout to shops, you decide.

 If any money is left over from the £980, it will be used for online advertising and marketing, and possibly pushing for release on iOS. If we were to raise substantially more we would do the following:
£1200 - I will port the game to PC and push for a Steam release via Steam Greenlight.
£1400 - There will be a minimum of 1000 Quests and 10 Major Settlements.

Ah, and finally on to me. As with most people I find talking about myslef fairly awkward so I will be brief. I am 20 years old and currently studying a Media NVQ level 4 at City College Norwich. I have been programming games for the past five years. My favourite games are Skyrim and Fallout 1&2.
I truly believe that for a game to be successful and rewarding for it's audience, it doesn't need 5 years, 1000 people, and $1,000,000 Dollars. Small, Independant teams can make game as good (and better). As this is what I think, I will make my personal email available to answer any questions directly, and any ideas for the game.
I am keeping a development blog to keep all of you updated on our progress. It can be viewed here http://cordallusdev.blogspot.co.uk/
If funding is successful, the game should be released within 2014. An Alpha version is likely to be released during September 2014. After release, I am planning 12 monthly updates for the first 12 months after release date. These updates will include new settlements on the world map, aswell as more items and quests.
It is only natural that there will be some risks and challenges. One risk is the fact that this is the first project that I will be the leading (and only) programmer. Alot of the in-game functions require a high level of programming. I hope that all of the planned features will be in the final version. I will keep working on the game until all of the planned features are implemented and are at least close to what they were first intended to be
FAQ
Have a question? If the info above doesn't help, you can ask the project creator directly.
0
Backers
£0.00

pledged of

£980

goal

You selected

Pledge

£4

or more

0 backers

A digital copy of Cordallus, including our alpha release and all future updates

Read more

A digital copy of Cordallus, including our alpha release and all future updates

You selected

Pledge

£10

or more

0 backers

As well as full access to the game and alpha release, you will also feature in the game credits, in the 'Backed by' section

Read more

As well as full access to the game and alpha release, you will also feature in the game credits, in the 'Backed by' section

You selected

Pledge

£30

or more

0 backers

In addition to the game, alpha release and name featured in the 'Backed by' section, you will have the oppertunity to create an in-game character

Read more

In addition to the game, alpha release and name featured in the 'Backed by' section, you will have the oppertunity to create an in-game character

You selected

Pledge

£100

or more

0 backers Limited (10 left of 10)

In addition to all of the above you will have the option to design and name your own settlement which will appear in-game

Read more

In addition to all of the above you will have the option to design and name your own settlement which will appear in-game
Funding period
- (30 days)