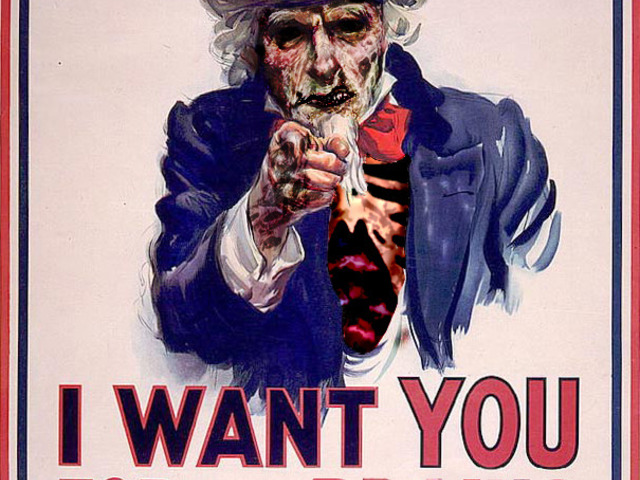 Giving you chance to see if you could make though entire weekend on a camp ground surrounded by zombies could you survive?
An entire weekend in the woods of Maine on Camp Ground and the Zombies are coming! Do have what it takes to survive at stake prizes and money and bragging rights that you.. You alone made it, you fought the horde and lived.
I do foresee any Risks however there will be a few challenges like finding the ground and enough people to play zombies.
FAQ
Have a question? If the info above doesn't help, you can ask the project creator directly.
0
Backers
$0.00

pledged of

$30,000

goal

First created

·

0 backed

Has not connected Facebook
You selected

Pledge

$25

or more

0 backers

one zombie shot Limited edition Zombie posters as well getting a production credit on all printed and video production.

Read more

one zombie shot Limited edition Zombie posters as well getting a production credit on all printed and video production.

Estimated delivery:

Ships anywhere in the world

You selected

Pledge

$100

or more

0 backers

Two Zombies Walked Into A Bar Limited Edition Signed Zombie Poster and Blood Splattered Tee-Shirt. As well as production Credits

Read more

Two Zombies Walked Into A Bar Limited Edition Signed Zombie Poster and Blood Splattered Tee-Shirt. As well as production Credits

Estimated delivery:

Ships anywhere in the world

You selected

Pledge

$200

or more

0 backers

Count Me In! free entry to the game and production credits limited edition post and tee-shirt

Read more

Count Me In! free entry to the game and production credits limited edition post and tee-shirt

Estimated delivery:

Ships anywhere in the world

You selected

Pledge

$1,000

or more

0 backers Limited (30 left of 30)

I LOVE ZOMBIES free entry into the game. free entry weapon free post production books video tee shirts and limited signed posters. A co producer credit.

Read more

I LOVE ZOMBIES free entry into the game. free entry weapon free post production books video tee shirts and limited signed posters. A co producer credit.

Estimated delivery:

Ships anywhere in the world
Funding period
- (30 days)