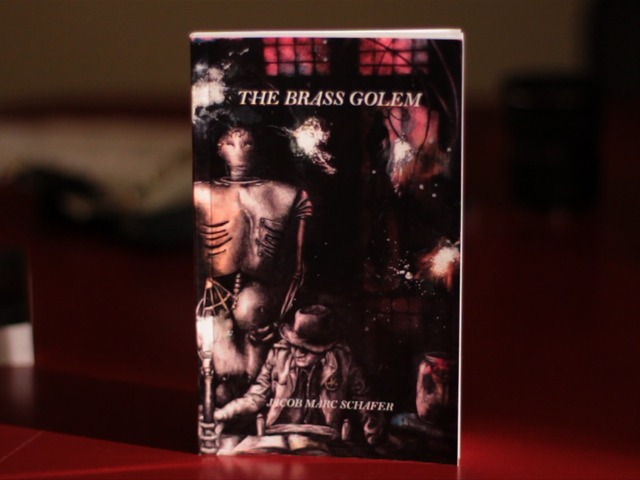 1906. San Francisco burns and Marshal Homer Faust must find his son... and all the while the brass golem lurks seeking his creator.
The Brass Golem is the first novel in my new golem trilogy and is already completed but I need your help to finish the other two novels. Your contributions will go a long way in helping me continue on my writing path. There are many obstacles that need to be overcome other than just writing the story. Paying my artist for the next two book covers for starters, as well as my editors and buying my novels ISBN numbers so that they can be sold online. I also have to buy copies and ship them to you my kickstarter supporters. The funds I'm asking for will go directly into the working progress of my books. Very little will go directly into my pocket and I will finally be able to pay my artist more than the pennies that I have been. She deserves more and I'm very excited to pay her what I actually think and know she deserves, which If I'm being truthful, probably still wont be enough. 
Just writing the first draft is a struggle and very, very time consuming. Luckily, I've done it several times before so I feel as though I have a deeper understanding of what it will take to get my projects done. The cover art for a novel is always tricky but I've worked with my artist on three other projects so I feel as though we have a good understanding of what I want and what she can give me. I also have my brother who is a graphic design major and helps quite a bit with formatting my books and artwork. The biggest problem I face would have to be time delays, I may not like my first draft and have to rewrite it, or I might not like the way the art is going and have her start over, all of which can postpone a project. luckily, I can be working on the art from early on so even if she is delayed I should have more than enough time to finish my projects on time. My past experience writing gives me confidence that I can finish my projects by the dates I specified without sacrificing on the quality of the story. Once my project is funded I will immediately set aside all the money it will take to print and ship copies of the books to all my supporters. My number one concern will be getting the finished copies into your hands on schedule and on budget.
FAQ
Have a question? If the info above doesn't help, you can ask the project creator directly.
0
Backers
$0.00

pledged of

$10,000

goal

First created

·

2 backed

Has not connected Facebook
You selected

Pledge

$15

or more

0 backers

The first book! You'll receive a paperback copy of The Brass Golem, the first book in the Golem trilogy. The book will be a signed copy by author Jacob Marc Schafer and will be delivered right to your door. Please add $10 for delivery if outside the continental U.S.

Read more

The first book! You'll receive a paperback copy of The Brass Golem, the first book in the Golem trilogy. The book will be a signed copy by author Jacob Marc Schafer and will be delivered right to your door. Please add $10 for delivery if outside the continental U.S.

Estimated delivery:

Ships anywhere in the world

You selected

Pledge

$30

or more

0 backers

The first two books! You'll receive a paperback copy of The Brass Golem by december of this year as well as the second book in the series The Silver Golem upon its completion in 2013. Both copies will be signed and delivered to your door.

Read more

The first two books! You'll receive a paperback copy of The Brass Golem by december of this year as well as the second book in the series The Silver Golem upon its completion in 2013. Both copies will be signed and delivered to your door.

Estimated delivery:

Ships anywhere in the world

You selected

Pledge

$45

or more

0 backers

The complete trilogy! For you diehard steampunk fans you will receive paperback copies of all three book in the series signed and delivered to your doorstep upon completion. The first and second books should arrive by Christmas of this year and of 2013 respectively and the third book in the series The Gold Golem by Christmas 2014.

Read more

The complete trilogy! For you diehard steampunk fans you will receive paperback copies of all three book in the series signed and delivered to your doorstep upon completion. The first and second books should arrive by Christmas of this year and of 2013 respectively and the third book in the series The Gold Golem by Christmas 2014.

Estimated delivery:

Ships anywhere in the world

You selected

Pledge

$65

or more

0 backers

The Kickstarter Crew! You will receive signed paperback copies of all three books in the series as well as a thank you credit in the third book under the tittle of the Kickstarter Crew! You will also receive a copy of my Pirate epic The Endless Waltz this year in addition to The Brass Golem and will be invited to a all day BBQ in Newport Beach, CA, where you can meet the author and artist of the The Golem Trilogy. The party will be set sometime in January, 2013.

Read more

The Kickstarter Crew! You will receive signed paperback copies of all three books in the series as well as a thank you credit in the third book under the tittle of the Kickstarter Crew! You will also receive a copy of my Pirate epic The Endless Waltz this year in addition to The Brass Golem and will be invited to a all day BBQ in Newport Beach, CA, where you can meet the author and artist of the The Golem Trilogy. The party will be set sometime in January, 2013.

Estimated delivery:

Ships anywhere in the world

You selected

Pledge

$250

or more

0 backers Limited (1 left of 1)

All other rewards apply and in addition your name will be used as a character in either the second or third book.

Read more

All other rewards apply and in addition your name will be used as a character in either the second or third book.

Estimated delivery:

Ships anywhere in the world
Funding period
- (37 days)