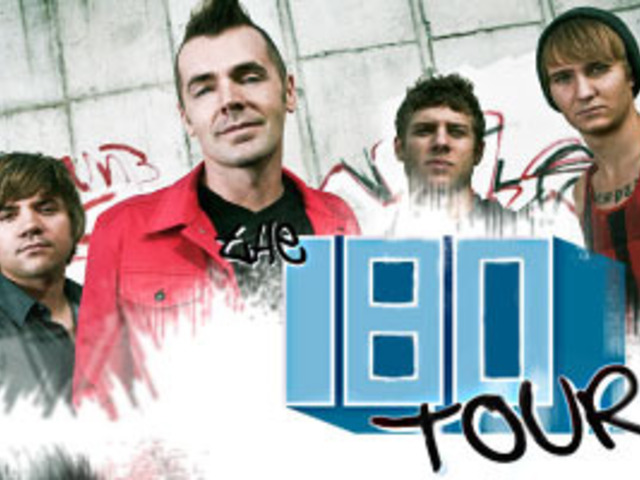 Help make sure the 180 Tour comes to Farmington High School in Farmington, AR.
Welcome to our 180 Tour Kickstarter page!  Let me briefly explain how Kickstarter works and why we are using this service.  Kickstarter allows us to efficiently raise funds for 180 Tour events.  Each 180 Tour event costs a considerable amount of money.  The 180 Tour travels in a 45ft tour bus with 20ft trailer.  We carry full concert sound and lighting production.  We have to pay for wages, food, fuel, lodging, insurance, and transportation for up to 8 people for each 180 Tour event.  It is part of our mission to bring this event to any school that wishes to have us.  We do not want cost to be a hindrance, if a school will have us, we will come!  We also don't want to burden the students at the school with the cost to attend the evening events where the gospel is shared.  That is why we are using Kickstarter to raise the funds we need to make this event happen in your city without charging the school or the students in the school to attend our evening outreach event.  
One of the great features about Kickstarter is their "all or nothing" funding approach.  As you can see our financial goal for this particular event is $7,500.  Every 180 Tour Kickstarter project has a financial goal and a deadline to reach that goal.  Once we reach our deadline the full funding amount must be raised.  If at the deadline we only have $5,000 pledged, you will not be charged because we did not reach our goal.  This ensures that money you pledge will go towards the 180 Tour event, and it keeps us from having to accept funds and then return funds if we don't receive enough support.  If we do not reach our financial goal we will literally have to call the school principal and cancel the 180 Tour event for their school.
Another great feature of Kickstarter is the ability to get the word out through social networking sites like Facebook and Twitter right from our 180 Tour Kickstarter page.  This page gives you every tool you need to tell others about our goal to bring the 180 Tour to your city.  All you have to do is tell everyone you know about this page.. it's as simple as that!
To the right of your screen you will see some different packages for you to consider.  Most of the packages include you getting tickets to the evening event while at the same time providing tickets for high school students to attend for free.  We need your help, but we want you to be a part of this event as well.  We want you to come to the evening event and enjoy an awesome concert as well as hear a great speaker and witness the 180 Tour sharing the gospel of Jesus to these students and people in your community. 
Remember, the hard part is done!  A school in your town has booked the 180 Tour!  We  will have an opportunity to not only encourage these students with their character and decision making during the day, but have an amazing opportunity to share the gospel to these students and the community during the evening event.  It now all depends on you.  Please give what you can and tell others about this event and send them the link to this page!
If you have any questions at all please contact us directly.  We look forward to seeing you soon!  402.429.2478 - Brandon
FAQ
Have a question? If the info above doesn't help, you can ask the project creator directly.
0
Backers
$0.00

pledged of

$7,500

goal

Has not connected Facebook
You selected

Pledge

$10

or more

0 backers

2 tickets to the evening event - 1 for you, and we give one to a high school student that wants to go (or we can give both tickets to students if you wish)

Read more

2 tickets to the evening event - 1 for you, and we give one to a high school student that wants to go (or we can give both tickets to students if you wish)

You selected

Pledge

$20

or more

0 backers

4 tickets to the evening event - 2 for you, and we give 2 to high school students that want to go (or we can give all 4 tickets to high school students if you wish)

Read more

4 tickets to the evening event - 2 for you, and we give 2 to high school students that want to go (or we can give all 4 tickets to high school students if you wish)

You selected

Pledge

$30

or more

0 backers

6 tickets to the evening event - 3 for you, and we give 3 to high school students that want to go (or we can give all 6 tickets to high school students if you wish)

Read more

6 tickets to the evening event - 3 for you, and we give 3 to high school students that want to go (or we can give all 6 tickets to high school students if you wish)

You selected

Pledge

$40

or more

0 backers

8 tickets to the evening event - 4 for you, and we give 4 to high school students that want to go (or we can give all 8 tickets to high school students if you wish)

Read more

8 tickets to the evening event - 4 for you, and we give 4 to high school students that want to go (or we can give all 8 tickets to high school students if you wish)

You selected

Pledge

$50

or more

0 backers

10 tickets to the evening event - 5 for you, and we give 5 to high school students that want to go (or we can give all 10 tickets to high school students if you wish) - Signed poster from VOTA as well

Read more

10 tickets to the evening event - 5 for you, and we give 5 to high school students that want to go (or we can give all 10 tickets to high school students if you wish) - Signed poster from VOTA as well

You selected

Pledge

$60

or more

0 backers

12 tickets to the evening event - 6 for you, and we give 6 to high school students that want to go (or we can give all 12 tickets to high school students if you wish) - 2 Signed posters from VOTA as well

Read more

12 tickets to the evening event - 6 for you, and we give 6 to high school students that want to go (or we can give all 12 tickets to high school students if you wish) - 2 Signed posters from VOTA as well

You selected

Pledge

$75

or more

0 backers

16 tickets to the eventing event - 8 for you, and we give 8 to high school students that want to go (or we can give all 20 tickets to high school students if you wish) - 2 Signed posters from VOTA and a free VOTA CD included as well

Read more

16 tickets to the eventing event - 8 for you, and we give 8 to high school students that want to go (or we can give all 20 tickets to high school students if you wish) - 2 Signed posters from VOTA and a free VOTA CD included as well

You selected

Pledge

$100

or more

0 backers

20 tickets to the evening event - 10 for you, and we give 10 to the high school students that want to go (or we can give all 30 tickets to high school students if you wish) - 4 signed posters from VOTA, 2 free VOTA CDs, and a VOTA meet and greet for your party

Read more

20 tickets to the evening event - 10 for you, and we give 10 to the high school students that want to go (or we can give all 30 tickets to high school students if you wish) - 4 signed posters from VOTA, 2 free VOTA CDs, and a VOTA meet and greet for your party

You selected

Pledge

$150

or more

0 backers

30 tickets to the evening event - 15 for you, and we give 15 to the high school students that want to go (or we can give all 50 tickets to high school students if you wish) - 6 signed VOTA posters, 2 free VOTA CDs, 1 VOTA t-shirt, and a VOTA meet and greet for your party

Read more

30 tickets to the evening event - 15 for you, and we give 15 to the high school students that want to go (or we can give all 50 tickets to high school students if you wish) - 6 signed VOTA posters, 2 free VOTA CDs, 1 VOTA t-shirt, and a VOTA meet and greet for your party

You selected

Pledge

$250

or more

0 backers

50 tickets to the evening event - keep as many as you need for yourself, and we give the rest to high school students that want to go to the evening event. 10 signed VOTA posters, 4 free VOTA CDs, 2 VOTA t-shirts, and a VOTA meet and greet for your party

Read more

50 tickets to the evening event - keep as many as you need for yourself, and we give the rest to high school students that want to go to the evening event. 10 signed VOTA posters, 4 free VOTA CDs, 2 VOTA t-shirts, and a VOTA meet and greet for your party

You selected

Pledge

$500

or more

0 backers

150 tickets to the evening event - keep as many as you need for yourself, and we give the rest to high school students that want to go to the evening event. 15 signed VOTA posters, 6 free VOTA CDs, 4 VOTA t-shirts, and a VOTA meet and greet for your party

Read more

150 tickets to the evening event - keep as many as you need for yourself, and we give the rest to high school students that want to go to the evening event. 15 signed VOTA posters, 6 free VOTA CDs, 4 VOTA t-shirts, and a VOTA meet and greet for your party

You selected

Pledge

$750

or more

0 backers

250 tickets to the evening event - keep as many as you need for yourself, and we give the rest to high school students that want to go to the evening event. 20 signed VOTA posters, 10 free VOTA CDs, 6 VOTA t-shirts, and a VOTA meet and greet for your party

Read more

250 tickets to the evening event - keep as many as you need for yourself, and we give the rest to high school students that want to go to the evening event. 20 signed VOTA posters, 10 free VOTA CDs, 6 VOTA t-shirts, and a VOTA meet and greet for your party

You selected

Pledge

$1,000

or more

0 backers

350 tickets to the evening event - keep as many as you need for yourself, and we give the rest to high school students that want to go to the evening event. 25 signed VOTA posters, 15 free VOTA CDs, 8 VOTA t-shirts, and a VOTA meet and greet for your party

Read more

350 tickets to the evening event - keep as many as you need for yourself, and we give the rest to high school students that want to go to the evening event. 25 signed VOTA posters, 15 free VOTA CDs, 8 VOTA t-shirts, and a VOTA meet and greet for your party

You selected

Pledge

$7,500

or more

0 backers Limited (1 left of 1)

Makes the entire event FREE to the public! We will print your company logo on all tickets and hand them out free at schools. You or your company will be considered official sponsor and be thanked from stage. We will also allow banners or signage and for you to set up a company table in the merchandise area. You will have dinner with VOTA and receive 1 of everything at VOTA's merchandise table

Read more

Makes the entire event FREE to the public! We will print your company logo on all tickets and hand them out free at schools. You or your company will be considered official sponsor and be thanked from stage. We will also allow banners or signage and for you to set up a company table in the merchandise area. You will have dinner with VOTA and receive 1 of everything at VOTA's merchandise table
Funding period
- (45 days)