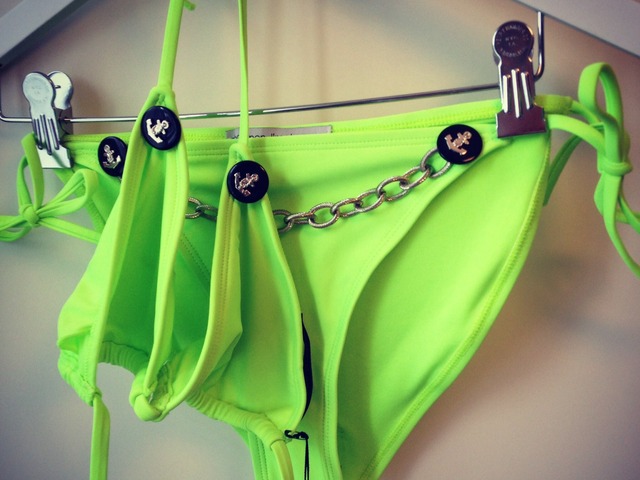 We want to make a sample collection of new swimwear and silk blend coverups for Summer 2015.
We want to make the following:
3  one piece swimsuits
3 bikini styles 
3 cover ups, silk/poly blend, open robe styles
We will buy the fabric in the garment district here in NYC and will then draft patterns. From those patterns we will make the first samples. These are the prototypes we will then approve, or work on again until fully correct. We use these samples then to represent the next collection. 
Usually the issues we tend to deal with are production issues. For example, a sample turns out wrong, the sizing isn't correct, doesn't fit properly, or is sewn wrong. Sample making can be a crap shoot. You have to do the best you can to make them as accurate as possible to save money and time making corrections.
FAQ
Have a question? If the info above doesn't help, you can ask the project creator directly.
0
Backers
$0.00

pledged of

$1,700

goal

2 created

·

0 backed

Has not connected Facebook
You selected

Pledge

$25

or more

0 backers

Anyone that donates will always be invited to our events and shows. A $25 donation will be rewarded with a small special handmade gift of choice.

Read more

Anyone that donates will always be invited to our events and shows. A $25 donation will be rewarded with a small special handmade gift of choice.

Estimated delivery:

Ships anywhere in the world

You selected

Pledge

$50

or more

0 backers

Anyone that donates will always be invited to our events and shows. A $50 donation will be rewarded with a small special handmade gift of choice.

Read more

Anyone that donates will always be invited to our events and shows. A $50 donation will be rewarded with a small special handmade gift of choice.

Estimated delivery:

Ships anywhere in the world

You selected

Pledge

$100

or more

0 backers

Anyone that donates will always be invited to our events and shows. A $100 donation will be rewarded with a small special handmade gift of choice, or a special order one piece suit or bikini.

Read more

Anyone that donates will always be invited to our events and shows. A $100 donation will be rewarded with a small special handmade gift of choice, or a special order one piece suit or bikini.

Estimated delivery:

Ships anywhere in the world

You selected

Pledge

$250

or more

0 backers

Anyone that donates will always be invited to our events and shows. A $250 donation will be rewarded with a small special handmade gift of choice, or a special order one piece suit or bikini.

Read more

Anyone that donates will always be invited to our events and shows. A $250 donation will be rewarded with a small special handmade gift of choice, or a special order one piece suit or bikini.

Estimated delivery:

Ships anywhere in the world

You selected

Pledge

$500

or more

0 backers

Anyone that donates will always be invited to our events and shows. A $500 donation will be rewarded with a small special handmade gift of choice, or a special order one piece suit or bikini, and one of our luxury coverups.

Read more

Anyone that donates will always be invited to our events and shows. A $500 donation will be rewarded with a small special handmade gift of choice, or a special order one piece suit or bikini, and one of our luxury coverups.

Estimated delivery:

Ships anywhere in the world

You selected

Pledge

$1,000

or more

0 backers

Anyone that donates will always be invited to our events and shows. A $1000 donation will be rewarded with a small special handmade gift of choice, or a special order one piece suit or bikini, and one of our luxury coverups.

Read more

Anyone that donates will always be invited to our events and shows. A $1000 donation will be rewarded with a small special handmade gift of choice, or a special order one piece suit or bikini, and one of our luxury coverups.

Estimated delivery:

Ships anywhere in the world
Funding period
- (15 days)