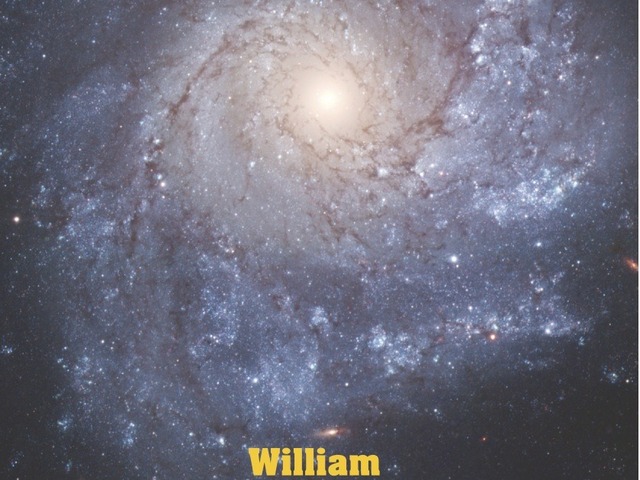 the story of how our universe was created in three successive realms of being - the geosphere, biosphere, and noosphere
Publish the story of how our universe came to be. 
a book by William McGaughey 
This is a 700-page softcover book with 180 interior illustrations and an index. Ready to go (except for the changed title in the cover design), it now needs money for printing. 
The Trinity of Being: A Cosmological History of Matter, Life, and Thought is the latest work in the emerging field of Big History.  Big History combines the history of the cosmos with the story of life's development on earth, the evolution of the human species, and emergence of an artificial world created by human thought. While this story is continually narrowing in the scope of time and space, it comes to a head in our own time. 
William McGaughey made a splash in the field of world history with his book, Five Epochs of Civilization, published in 2000.  This book received favorable reviews in major publications in India, China, Pakistan, and Nigeria, as well as the United States.  It was also published in a Chinese translation.  McGaughey was program chair of the annual conference of the International Society for the Comparative Study of Civilizations held in New Orleans in June, 2011. 
The Trinity of Being got off to a good start when McGaughey presented a well-received paper related to his book at the UNESCO-sponsored "Globalistics-2013" symposium held at Moscow State University in October, 2013. This conference was held in honor of the 150th birthday of Vladimir Vernadsky, a noted geologist, biologist, and cosmologist.  It was Vernadsky primarily who developed or popularized the concepts of the biosphere (the world of life) and of the noosphere (the world of thought) in the first half of the 20th century. 
Those who consider history a boring subject will be pleasantly surprised by Big History and by this book in particular.  This is a narrative of events taking place in several different domains of time and space woven together in a coherent and meaningful way.  
History on this scale also allows prediction of future events.  McGaughey's world history anticipates that Americans will move from an entertainment-based culture to one dependent on computer technology.  At the same time, we are on a collision course between expanding populations and use of material resources and the earth's capacity to sustain this growth.  Robot technology may be an important element in humanity's future. 
McGaughey's previous book developed a scheme of historical prediction based on similarities in the life cycles of different civilizations.  For a time, his web page, http://www.worldhistorysite.com/prediction.html was Number One on Google for the search words, "predict the future".  A condensed version is included in this book. However, this scheme of prediction no longer applies to the field of Big History since we are moving into largely uncharted territories. 
Anyone curious about the "big picture" will want to read this book.  It is well-written, detailed, and thoroughly historical, with many illustrations and more than thirty tables. More sharply focused upon human civilization than comparable books, it may well come to define this field in important aspects.  McGaughey presented a paper on historical thresholds at the second conference of the International Big History Association at the Dominican University of California in August 2014. 
The field of Big History is exploding. An Australian history professor, David Christian, who was the first president of the International Big History Association (IBHA), was the person who did the most to develop it. After Christian caught the eye of Bill Gates at a TED talk, the Gates Foundation contributed money to create online resources for Big History. Gates himself brought Christian to the World Economic Forum in Davos, Switzerland, for interviews. (Learn more about Christian and the IBHA at the website, http://www.ibhanet.org.) 
In the last several years, hundreds of new Big History courses have been launched in high schools and colleges around the world.  Big History has also been featured in a recent program on the H2 Channel. As with any new discipline or movement, anything can happen.  It is in this environment that The Trinity of Being: A Cosmological History of Matter, Life, and Thought is being offered. A family emergency has made it necessary to raise money through Kickstarter to get this project off the ground. McGaughey has a track record of successful book publications.
McGaughey's book has its own website at http://www.BigHistorySite.com with parallel pages in several different languages. 
You can help launch this book and spur its impact upon the field of Big History by contributing money for the first printing.  Each contributor will be acknowledged as such on a page in BigHistorySite.com.  Those who contribute $25.00 or more - the book will retail for $26.95 - will receive a copy of the book when it first comes off the press autographed by the author and thanking the contributor by name. (Donors of $100 or more will receive five copies of the book, inscribed to persons designated by the donor.) Delivery of the book will be free.  
Publication of this book may well lead to other projects. For instance, a documentary film based upon it may later be made.  The author hopes to establish a network of persons interested in big history who will critique the subject and offer suggestions for further projects. Depending upon the book's level of commercial success, there may also be opportunities for major contributors to visit with the author at certain places and times during book tours or on other occasions. A book of Big History makes an excellent focal point for discussion among those interested in saving humanity and other life forms from possible extinction. 
The fulfillment date of October 2014 could be a little tight. I have both the printer and distributor lined up but have yet to sign contracts. I expect no technical problems for production of the book but cannot guarantee that these will not occur.
FAQ
Have a question? If the info above doesn't help, you can ask the project creator directly.
0
Backers
$0.00

pledged of

$5,600

goal

You selected

Pledge

$25

or more

0 backers

One copy of newly published book autographed to donor by the author and delivered free of charge. (Book retails at $26.95 and delivery is charged.)

Read more

One copy of newly published book autographed to donor by the author and delivered free of charge. (Book retails at $26.95 and delivery is charged.)

Estimated delivery:

Ships anywhere in the world

You selected

Pledge

$100

or more

0 backers

five books on the same terms as above

Read more

five books on the same terms as above

Estimated delivery:

Ships anywhere in the world
Funding period
- (32 days)