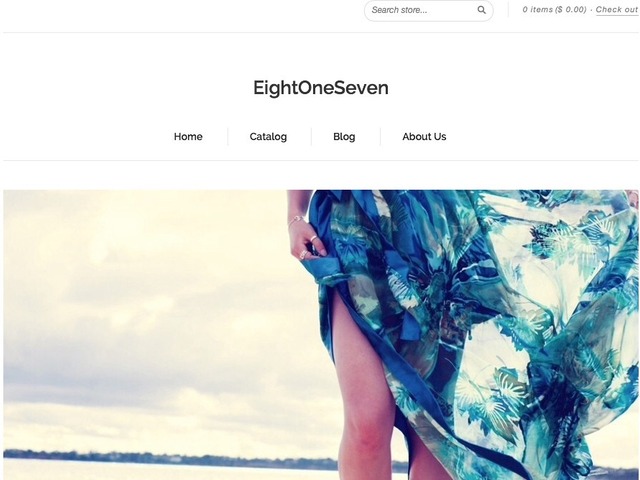 EightOneSeven is an online retailer that would cater to women age 20-35 focusing on items that can be worn every day with a beach vibe
I would like to start an online retailer with the help from you guys!! I went to a fashion school here in LA (FIDM) where I majored in Merchandise Marketing, with the plans to one day becoming a buyer. As I went through school, the idea of starting my own store sounded appealing to me. I wanted to open a surf, skate, and snow shop.  
After college I entered the real world still dreaming of my own store. I met a few friends along the way who collaborated with me on ideas; and on of my friends came up with the idea of a swim suit store that I fell in love with, But umm one problem right? Even though we live in sunny California, no one buys swim suits all year round... So that idea wasn't very profitable. 
With that being said I would like to create an online retailer that caters to women 20-35 that can be worn everyday, (comfort is very important to me) and during summer months have a large inventory of different swim suits. With the hopes that one day we can branch into men's and children's wear. So please contribute so that I can finally make my dreams come true.
Some challenges that may arise, no one purchases the clothing, items from whole seller either doesn't ship or doesn't ship on time, item defective from warehouse. There are a lot of variables that go into opening your own business I am going to market as much as I can within my budget and to the correct people, when items are defective and shipped to customer, customer can return item for a like item.
FAQ
Have a question? If the info above doesn't help, you can ask the project creator directly.
0
Backers
$0.00

pledged of

$6,000

goal

You selected

Pledge

$1

or more

0 backers

A huge thank you!!! and your wonderful name will be displayed on our contributor page.

Read more

A huge thank you!!! and your wonderful name will be displayed on our contributor page.

You selected

Pledge

$5

or more

0 backers

An even bigger thank you!!!! Also Your name on the contributor page, as well as a personalized photo of our team sent to you.

Read more

An even bigger thank you!!!! Also Your name on the contributor page, as well as a personalized photo of our team sent to you.

Estimated delivery:

Only ships to: United States

You selected

Pledge

$10

or more

0 backers

The third largest thank you!!!! Also your name slightly larger on our contributor page as well as a postcard from our team, and a magnet with our logo on it so it can be proudly displayed on your fridge.

Read more

The third largest thank you!!!! Also your name slightly larger on our contributor page as well as a postcard from our team, and a magnet with our logo on it so it can be proudly displayed on your fridge.

Estimated delivery:

Only ships to: United States

You selected

Pledge

$25

or more

0 backers

The forth and final(so largest ) thank you from our team, your name on the website, as well as a postcard, with a magnet BUT YOU WILL ALSO RECEIVE..... A tote bag that will be sent to you with our lovely logo!!!

Read more

The forth and final(so largest ) thank you from our team, your name on the website, as well as a postcard, with a magnet BUT YOU WILL ALSO RECEIVE..... A tote bag that will be sent to you with our lovely logo!!!

Estimated delivery:

Only ships to: United States

You selected

Pledge

$50

or more

0 backers

If someone pitches in $50 I will have to create a special gift just for you, that has not been decided yet but I have to put this on here just in case. But you will receive everything listed above !

Read more

If someone pitches in $50 I will have to create a special gift just for you, that has not been decided yet but I have to put this on here just in case. But you will receive everything listed above !

Estimated delivery:

Only ships to: United States

You selected

Pledge

$100

or more

0 backers Limited (1 left of 1)

If you are in the LA area I will take you with me on a buying trip in January where you can pick out an item for the store!!!!! As well as all the other items listed above!

Read more

If you are in the LA area I will take you with me on a buying trip in January where you can pick out an item for the store!!!!! As well as all the other items listed above!

Estimated delivery:

Only ships to: United States

You selected

Pledge

$100

or more

0 backers Limited (1 left of 1)

If you are in the LA area I will take you with me on a buying trip in March where you can pick out an item for the store!!!!! As well as all the other items listed above!

Read more

If you are in the LA area I will take you with me on a buying trip in March where you can pick out an item for the store!!!!! As well as all the other items listed above!

Estimated delivery:

Only ships to: United States
Funding period
- (30 days)