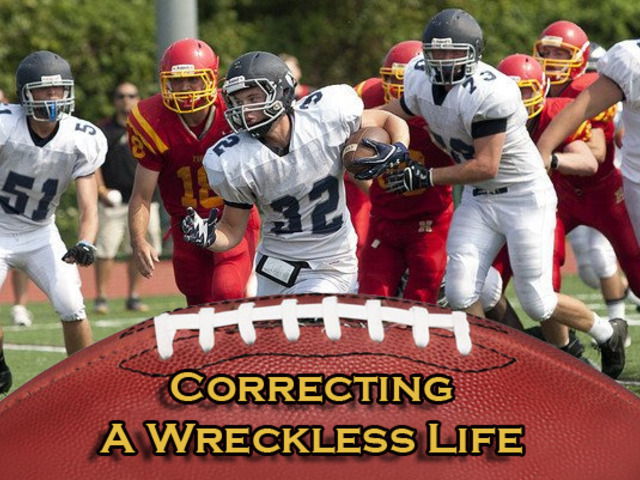 Correcting A Wreckless Life, based on the book, it is about a wild and talented football player that lost everything & found God.
Correcting a Wreckless Life is a dramatic story about how a split second horrific hit and run auto accident can ruin a star studded career that was taken for granted. Celebrating his new UNLV scholarship, while leaving a party, Joey is hit by a car traveling upwards of seventy miles per hour. A lifeflight helicopter was dispatched and transported the severely injured Joey to UC Davis Medical Center. After suffering eighteen major injuries and twelve hours of surgery Joey was released three weeks premature. Once back home, he returned to the gridiron starts. He broke down all barriers and limitations set forth by the medical field and returned to the football field in record time of only five months. He was seen as damaged goods all his scholarship offers were withdrawn.
Joey faced reality and found work in the car business as a salesman, he brought his same competitive spirit and began setting sales records, but that wasn't enough to lift his failed ambition of NFL football player and Joey picked up a serious cocaine habit that lasted for twelve years. Unable to cope, his wife walks out on him and he immediately sobers up after years of hard drinking and cocaine abuse. 
After a year of sobriety Joey is blessed to get a phone call asking if he is interested in playing football again. Joey loses seventy five pounds and plays with half of his left calf missing, a destroyed knee, and a badly damaged ankle. At forty years old Joey's victorious second football career is now three games long. Joey has an awakening again, this time giving his life to Christ. Now Joey has won the biggest victory of all, the game of life!
This is both a sports and faith based film. No special effects, no rewriting of the Holy Bible. It is not the kind of film that Hollywood will fund, even though films such as "Facing the Giants", "Fire Proof" and "Courageous" have proven that they can be both engaging and profitable. Moreover, films like "Correcting A Wreckless Life" show the horrors of the wicked path and the redemption available to everyone through their acceptance of Jesus Christ. This film can save lives.
FAQ
Have a question? If the info above doesn't help, you can ask the project creator directly.
0
Backers
$0.00

pledged of

$100,000

goal

First created

·

0 backed

Has not connected Facebook
You selected

Pledge

$50

or more

0 backers

Estimated delivery:

Ships anywhere in the world

You selected

Pledge

$100

or more

0 backers

Estimated delivery:

Ships anywhere in the world

You selected

Pledge

$250

or more

0 backers

Estimated delivery:

Ships anywhere in the world

You selected

Pledge

$1,000

or more

0 backers

Autographed DVD and Book

Read more

Estimated delivery:

Ships anywhere in the world

You selected

Pledge

$10,000

or more

0 backers

Special Thanks in Credits by Name Private Screening with Joey Ortiz at your event. Autographed DVD and Book

Read more

Special Thanks in Credits by Name Private Screening with Joey Ortiz at your event. Autographed DVD and Book

Estimated delivery:

Ships anywhere in the world
Funding period
- (60 days)